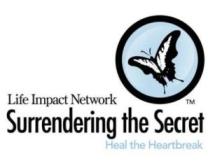 Pregnancy Resource Center of Charlotte Presents
Surrendering the Secret
a Bible study designed to heal the heartbreak of abortion
43% of women have had an abortion in their past. Others have helped someone get an abortion. As a result, many women daily carry the pain of this decision and feel alone.
PRCC is partnering with churches to offer post-abortive women an opportunity to find hope, healing, peace and forgiveness in Christ. We believe God wants to take those who are broken and make them beautiful. If you or anyone you know has an interest in attending the "Surrendering the Secret", please contact Mary at mary@prccharlotte.com or 704-372-5981.